Protection for your Oil Tank
Tank Arm is an oil tank security lock for plastic single skin and bunded oil tanks. that can secure both extraction points on your oil tank.
Tank Arm can secure both extraction points, in a single device

Some oil tank security products on the market secure just the fill point of an oil tank, when in fact most oil tanks have two potential extractions points – the fill point, and the inspection point. There is no point securing just one, leaving the other exposed.
Tank Arm is an effective deterrent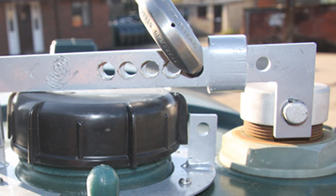 An additional deterrent to oil tank security is to install an oil tank alarm that omits a noise or turns on a light externally on the property when oil is being removed thus attracting attention to the theft. Alternatively you could install a unit that only omits a noise inside the home, these work well if someone is at home to hear it and alert the police, but if not, the thieves are undeterred. With Tank Arm fitted, thieves are deterred regardless of whether you are at home.
Tank Arm is robustly manufactured, and made in the UK
All Tank Arms are made from 5mm thick solid steel. The steel is galvanised and assembled with a stainless steel tamper proof rivet, providing an anti-corrosion barrier so the arms will never rust or seize.
Tank Arm is easy to install
Simply remove caps on your tank, place the base plate over the neck of your tank inspection hole, and screw the supplied cap onto the filling point. Join the arms together, and then fit a padlock of your choice through the holes. The base plate is then screwed to your tank using the one way tamper proof screws. Northern Tank Services offer a fitting service for Tank Locks and Theft Alarms.
Tank Arm offers value for money
Tank Arm is competitively priced, and comes with all fittings required for installation. A vent cover (where applicable), for added security! You just need a padlock – we don't include one, to keep cost down, in case you have one already. Alternatively we can supply a heavy duty number coded padlock with your lock.
This oil tank lock known as Tank Arm has UK Patent Pending.  Application number GB1115818.5. Patents will be applied for in other jurisdictions
Oil Tank Locks
Here is a selection of our oil tank locks.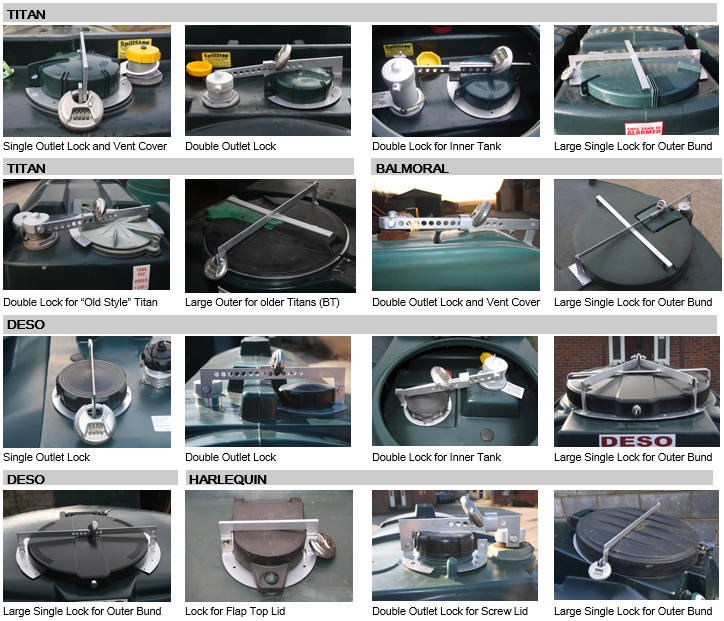 Installing Tank Arm
The Tank Arm oil tank lock can be fitted without any drilling. However, some people may find it easier to drill pilot holes first. An installation service is available.
Supplied with…
Tank Arm is supplied with tamper proof screws, and a vent cover  where appropriate.
Our Range
Are range covers Atlas, Deso, Titan, Balmoral, Harlequin and QSS oil tanks. Also products now available for steel tanks.
Vent Covers
Here is a selection of our vent covers